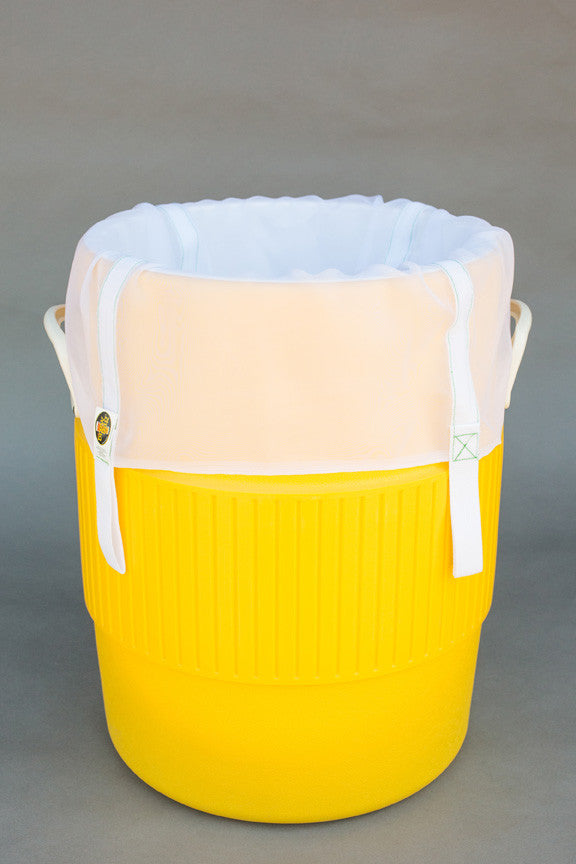 The Brew Bag®- Mash Tun Filter for Round Coolers - 200 - 400 Micron
Regular price
Prices vary based on Micron rating and size - starts at $ 31.50
In Stock
Prices vary based on Micron rating and size - starts at $ 31.50
200 Micron Standard - 400 Micron Recirculate
Allows for all-grain brewing with One Kettle

Prices vary based on Micron rating - starts at $30.00

NO MORE STUCK SPARGES!!! – Our filter maximizes the out flow of wort, no sparging necessary
Holds over 100 pounds of grain
Used for Brewing Beer, Tea, Coffee, Juice & More
100% Guaranteed Against Manufacturing Defects – For Life
Secure and trusted checkout with

NO MORE STUCK SPARGES!!!  This filter maximizes the flow of wort. Just

 put The Brew Bag® in your cooler, add grain and strike temp water as usual. When the mash is done follow your normal sparging procedures and then open the spigot and drain into the boil kettle.
Features of The Brew Bag® for Coolers
Use again and again - NOT a throw away bag

2" loops for lifting - either by hand or with a pulley and a hook

Holds over 100 pounds of grain

Smooth seams on the interior enable quick cleaning

All strapping intersections are reinforced with "X" stitching

1" poly straps cover seams and bear the strain of grain - this bag will last and last

Hand wash and drip dry
 Additional Benefits of The Brew Bag® for Coolers
You can also use the The Brew Bag™ as a complete Brew In A Bag NO SPARGE mash tool. Just calculate the full pre-boil volume, add approximately 12 ounces more water per pound of grain (this will be absorbed and tossed). Then just open the spigot and drain into the boil kettle. You may need a bigger mash tun for this process. 
---
Share this Product
Works great. Couldn't ask for any more.
Second use this past weekend. I bought one for a round cooler. It fits perfect I never dreamed all grain could be so easy. I am sure you could buy a cheaper bag but I cannot believe there's a better bag. Period.
Awesome
This bag is awesome, very strong and made well. You can find them cheaper, but that's what your going to get "cheaper". Well worth the extra money.
Brew bag
Excellent bag fast delivery thanks
High quality product
This bag is a well-made, high-quality piece of mashing equipment. It fits perfectly over the sides of my 10-gallon cooler. I purchased this bag for use in mashing lighter colored grains and it is the second bag I have purchased from Brewinabag.com. My older bag still functions perfectly but has permanently taken on a darker color from repeated use in mashing dark grains for dark ales, porters and stouts.