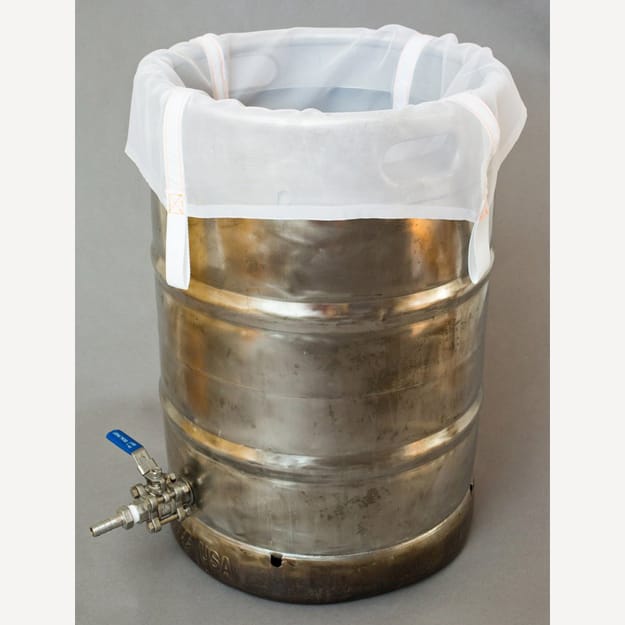 The Brew Bag® for Keggles - 200 - 400 Micron
Regular price
Prices vary based on Micron rating and size - starts at $ 31.50
In Stock
Prices vary based on Micron rating and size - starts at $ 31.50
Designed for no sparge Brew In A Bag - Standard 200 or Recirculate 400 or 800 Micron + $16.50
Allows for all-grain brewing with One Kettle

Prices vary based on Micron rating - starts at $30.00

NO MORE STUCK SPARGES!!! – Our filter maximizes the out flow of wort, no sparging necessary
Holds over 100 pounds of grain
Used for Brewing Beer, Tea, Coffee, Juice & More.
100% Guaranteed Against Manufacturing Defects – For Life
Secure and trusted checkout with

You can now use the brew in a bag method with your keggle! This bag fits American Sanke kegs with at least an 11" opening.
Recirculating?    

Select the 400 or 800 Micron option for $16.50 more
Features of The Brew Bag® for Keggle's
Use again and again - not a throw-away bag

2" loops for lifting either by hand or with a pulley and hook

Holds over 100 pounds of grain

Use it as your hop bag - but it must be suspended above the kettle bottom
Will not catch on the "lip" of the keggle


Smooth seams on the interior enable quick cleaning

1" polypropylene straps cover the seams and bear the strain on every use - this bag will last and last

Hand wash with an emulsifying dish soap like Dawn - triple rinse and drip dry
---
Share this Product
Brew Bag
Brew bag work's great, but i made the mistake of forgetting to put my mesh strainer in the bottom of the pot on my 5th boil and burned a hole through the bag. Costly mistake. I will need to order another soon.
Beer bag
This thing is amazing. Fits perfectly. The lifting straps are solidly attached to the whole sides of the bag and across the bottom. The eyes are strong and can clip into a rope and pully for lifting.
Easy to clean.
Meh
Brew bag got stuck in my keggle. My keggle is 11.5 in at the opening (11 in was the minimum recommended). Made a pretty big mess and I lost a lot of wort getting it out. I rigged a 250lb locking winch to assist in lifting it out but ended up literally lifting the keggle full of wort by the brew bag straps. Had to squeeze the bag and pull repeatedly to free it. Finally 'vorlaufed' and squeezed through the freed bag to try to raise gravity. BB is a tough, built to last product but I would not recommend use if your brewpot has any narrowing from the sides to the opening.
Give your Mash and Boil a new life
I was getting badly scorched wort in my Mash and Boil kettle. The 400 micron bag has eliminated the scorching and the wort is much cleaner going into the fermenter. Get one!
The Brew Bag® for Keggles
The bag works great, as expected. My only issue is my keggle top is only cut out 12" diameter. In the keggle, the bag fills the entire space. When I lift the bag out it sometimes snags. Maybe I just have to learn to lift different. I'm glad I bought this.