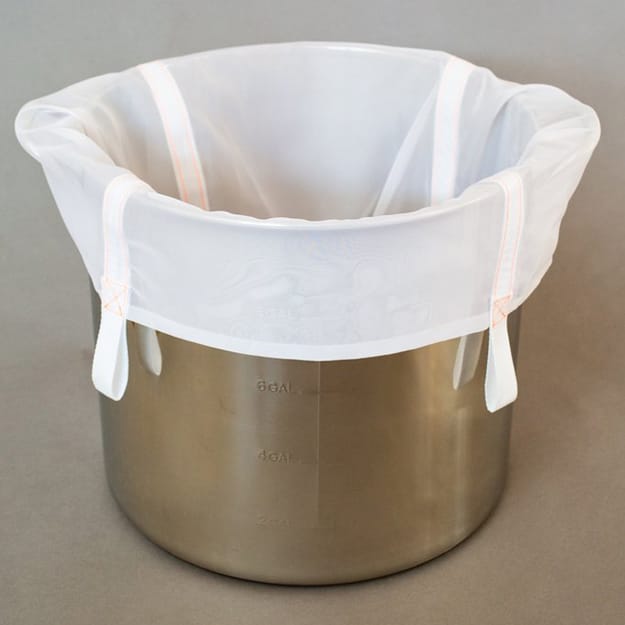 The Brew Bag for Kettles® - 200 - 400 - 800 Micron
Regular price
Prices vary based on Micron rating and size - starts at $31.50
In Stock
Prices vary based on Micron rating and size - starts at $31.50
Used for Hemp, Beer, Tea, Coffee, Juice, Cider, Fruit, Berries, and more

Measure your kettle - Outer Diameter - Inside height - Choose micron

Prices vary based on Micron rating and size - starts at $25.00 for undersize bags

Standard Brewing 200 Micron - Recirculate 400 - Corn Mash 800 
ONE KETTLE DOES IT ALL - REUSE AGAIN AND AGAIN
NO MORE STUCK RUN OFF! Our filter maximizes the out flow of liquid
Lift and holds over 100 pounds of grain
100% Guaranteed Against Manufacturing Defects – For Life
Prices vary based on Micron rating and size - starts at $31.50

Standard Brewing 200 Micron - Recirculate 400 Micron
Fits Any Kettle! 1 to 100+ Gallons
100% Guaranteed Against Manufacturing Defects – For Life
Secure and trusted checkout with

Standard 200 Micron - Recirculate 400 - Corn Mash - 800 
The Brew Bag® allows all-grain brewing with one kettle. Contact us for a quote on sizes larger than 40" diameter. Recirculating / Mashing Corn? - Select the 400 or 800 micron option above. 

NO MORE STUCK SPARGES!!!  This filter maximizes the out flow of wort so sparging is not necessary. After strike water temp is reached  put The Brew Bag® in your kettle, add grain and mash as usual. When the mash is done follow your normal sparge/ no sparge procedures and transfer to the boil kettle.
Features of The Brew Bag® for Kettles

Use again and again - NOT a throw away bag

1" poly straps cover seams and bear the weight of the grain 


2" loops for lifting -  by hand or with a pulley and a hook

Lift and hold over 100 pounds of dry grain - 200 pounds wet

Smooth seams on the interior enable quick cleaning

Use it as your Hop Bag

suspended in the kettle. 

Hand wash with an emulsifying detergent like Dawn and drip dry 
Best Bag I've Used
I had a brewbag for my old system and when I got a new system, I tried to cheap out and go with the Amazon bags that were way cheaper. After 3 months, I came back and bought a brew bag. Hands down a great investment! I currently use them in a Delta AIO system inside of the malt pipe. I get cleaner wort and better efficiency.
Works great!
Love Brew Bag stuff! Feel confident should you decide to order from Brew Bag!
Good Bag
While the bag is high quality I should have bought the 400 micron. The 200 I have seems to plug somewhat draining very slow. I am using it with flaked grains.
What an improvement
The Brew Bag works as advertised. It has simplified my brewing and increased effeciency. Have already purchased a second for my brother.
400 micron bag
Used it for the first time yesterday. Worked great, as no milled corn got through the mesh but the 400 micron size allowed for easy sparging.